Management Team
Joseph Ferraro, FAIA, LEED AP
Founding Principal/Chairman of the Board
Prior to co-founding Ferraro Choi And Associates Ltd., Mr. Ferraro worked as a Director of Interior Architecture for 6 years in Hawaii and 10 years in New York. He continues his 35 years of work on research facilities for the National Science Foundation in Antarctica, is also a member of the American Institute of Architects College of Fellows, and a recipient of the US Green Building Council's Pioneer award for his sustainable design practice.
Troy Miyasato, AIA, MBA
Principal/President and Treasurer
Mr. Miyasato obtained his degree in Architecture from the University of Hawaii Manoa and became Principal in 2003.  The majority of his career has focused on healthcare, retail, and commercial projects as well as corporate interior office renovations and educational buildings. He is currently President and Treasurer of the firm and his current responsibilities include management of office operations and project management of both interior design and architectural departments.
William Brooks, AIA, LEED AP
Principal/Vice President
Mr. Brooks received his Bachelor of Architecture degree  from the University of Hawaii at Manoa in 1982 and became a Principal of Ferraro Choi And Associates in 2003.  He is the architect of record for the Hawaii Gateway Energy Center which achieved LEED Platinum certification in 2005, only the eighth project worldwide to do so at the time.  Mr. Brooks is the lead author of a benchmark cost-benefit analysis of sustainable design and LEED certification for public schools developed for the State of Hawaii's Department of Business, Economic Development & Tourism (DBEDT).
Gerald Choi, AIA Emeritus, LEED AP, MBA
Founding Principal
Co-founder of Ferraro Choi And Associates Ltd., Mr. Choi obtained a Bachelor of Fine Arts degree with Distinction in Architecture from the University of Hawaii Manoa, a Masters of Business Administration degree from the University of Phoenix, and LEED AP accreditation.  Mr. Choi has a wide range of commercial, institutional, and residential project experience including design feasibility and financial Pro Forma studies for real estate developments, energy studies, and specialty adaptive reuse studies.
Karen Riley
Office Manager/Accounting
Ms. Riley has served as Office Manager at Ferraro Choi since 1996. She oversees or personally handles a broad range of departments and initiatives, including accounting/bookkeeping and project financials, firm marketing, IT support, the FCA Wellness Program, and general administrative operations and strategies.
She was integral in developing and managing the firm's current green office practices and was a key member of the office LEED certification team culminating in LEED CI Platinum certification.
Design Team
Gene Aquino
Architectural Designer
Mr. Aquino joined Ferraro Choi in 2023.  He has a background in hospitality, education, civic and correctional projects.  He assists with the preparation of design and construction documents, architectural graphics, and construction administration support.
Hale Takazawa, AIA
Senior Project Architect
Mr. Takazawa rejoined Ferraro Choi in 2023 bringing his project knowledge and background related to building and urban sustainability in the face of extreme climate conditions and sea level rise. Hale's experiences focus on physical planning and on both residential and commercial projects with mixed functions of residential, corporate, educational and industrial components in a program.

Jackie Presbaugh
Interior Designer
Ms. Presbaugh joined the firm in 2016. She assists in preparation of design, construction and planning documents, presentations and interior finish boards. With a working knowledge of BOMA Rentable Area standards, furniture standards, and ADA standards, she also develops interior details and coordinates with Ferraro Choi contractors.
Jason Takeuchi, AIA, NOMA, NCARB
Project Architect
Mr. Takeuchi joined Ferraro Choi in 2012. Graduating with a Doctor of Architecture (DArch) from the University of Hawaii at Manoa, he manages and delivers sustainable commercial projects designed to enhance the social welfare and progress of our local communities. Recent key projects include Waimanalo Health Center, the Entrepreneurs Sandbox, and the University of Hawaii Culinary Institute of the Pacific.

Kapua Pimentel, Assoc. AIA, NOMA
Architectural Designer
Kapua supports the design team with client and contractor communications, with emphasis on projects incorporating Hawaiian culture. She has worked on elementary school building projects for Kamehameha Schools, as well as Ka 'Umeke Kā'eo Public Charter School in Hilo and is currently working on the Hālau of ʻŌiwi Art in Peʻepeʻe, Wailuku, Maui. She joined Ferraro Choi in 2018.
Karyn Lee, AIA
Associate / Director of Healthcare Design
Ms. Lee has worked on a variety of project types: Commercial Office Towers, Libraries, Youth Centers and Healthcare Projects. Karyn's niche focus is in Healthcare Design and she recently completed managing the COVID Infrastructure project at The Queen's Medical Center. Currently, she is the project manager for the 114,000 sf Daniel Kahikina Akaka VA Clinic in Kapolei.
Kim Farrant
Materials Resource Manager
Ms. Farrant joined Ferraro Choi in 2001.  She assists with various aspects of projects' interior design, particularly furniture and finish selections.  She also maintains the firm's resource library.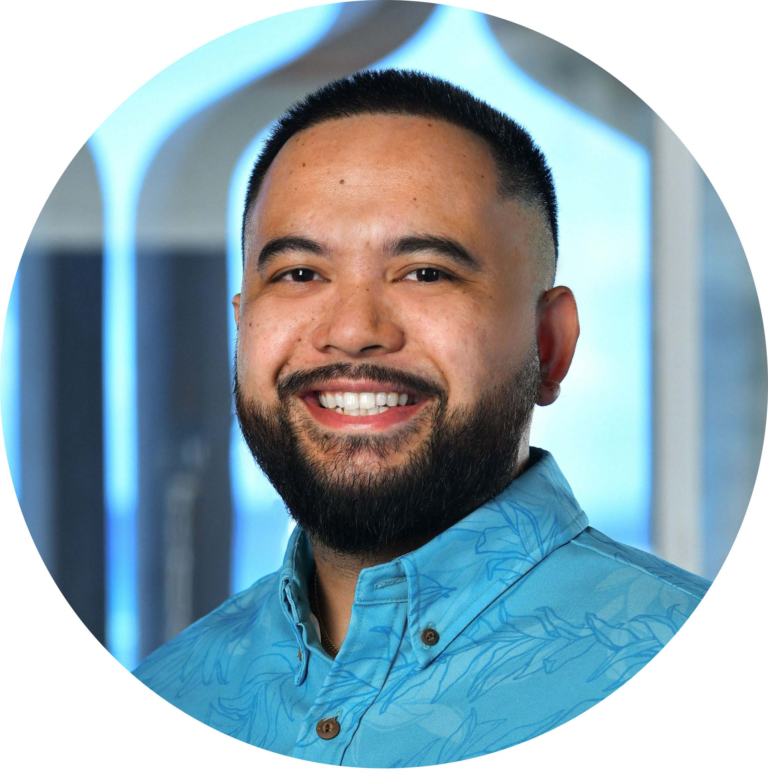 Kris Jugueta, Assoc. AIA, D.Arch
Architectural Designer
Mr. Jugueta joined Ferraro Choi in 2021. He provides CAD/BI technical support, Construction administration support, and architectural graphics & renderings.
Kurt Katada
Associate / Senior Interior Designer
Mr. Katada oversees Interior Design for the firm. He has designed and managed the first LEED® Gold certified project in Hawai'i, the American Institute of Architects (AIA) Honolulu Office.  He has directed national and international award winning projects for Ferraro Choi and is a guest critic at the Chaminade University Interior Design Program.
Mark Ayers, AIA, CSI, CDT, LEED AP
Associate / Director of Educational Design
Mr. Ayers brings both talent and experience through all phases of design and production in commercial, institutional, residential, government, and specialty projects. His diverse skills allow him to engage with multiple project types and identify specific client requirements early through project visualization and client charrettes.
Reece Bonilla, Assoc. AIA, D.Arch
Architectural Designer
Mr. Bonilla joined Ferraro Choi in 2016. He is involved in construction administration for various projects and provides architectural support such as CADD development and project rendering as well as technical support such as building performance computer modeling and virtual reality. Recent projects have included Wailuku Civic Complex, Lili'uokalani Trust's Kipuka Pukalani, and the McMurdo Station in Antarctica.
Shannon Bonilla
Marketing Coordinator
Ms. Bonilla joined Ferraro Choi in 2022 as Marketing Coordinator. She comes from a food marketing background as well as Commercial Real Estate. Her role focuses on project data, submissions and firm wide news.
Tarek Farid, AIA, LEED AP, CPHD
Director of Architectural Design
Mr. Farid joined Ferraro Choi in 2017. He leverages his broad experiences working across project typologies to inform his firm-wide design leadership role. He has dedicated his career to socially responsible design with a focus on sustainability, cultural regionalism, education, and affordable housing. Tarek is currently leading the design team for the Hālau of ʻŌiwi Art project, a Hawaiian cultural center located in Wailuku, Maui.
Terry Kobayashi, AIA
Associate / Senior Project Architect
Ms. Kobayashi has worked on a wide variety of projects, ranging from commercial, institutional, educational facilities, and military work, being involved in the design phases through construction. She is most currently involved with the construction administration for the University of Hawaii – Culinary Institute of the Pacific.
Tina Zeng, AIA
Architect
Ms. Zeng joined Ferraro Choi in 2018. She assists Project Architects with research, drawings, and coordination. Current and recent projects include HUNT VA, the Wailuku Civic Center on Maui, Liliuokalani Trust's Kamalii Services Hub on Molokai, and The Queen's Medical Center.
Yon Chung
Interior Project Manager
Ms. Chung joined Ferraro Choi in 2019. She assists with various aspects of projects' interior design including site analysis, programming, space planning, code analysis, construction drawings and construction administration.